Blessed years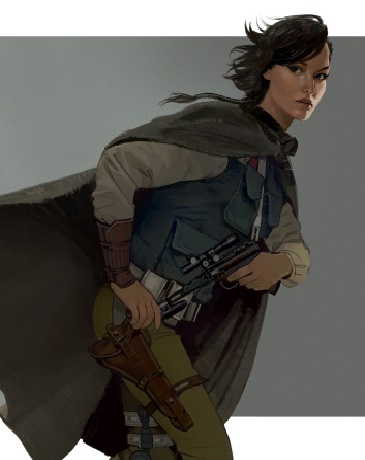 "I don't usually trust blind contacts. This deal sounds too good to be true."
Lhann double-checked the credit transfer Benna had brought him.
"Everything checks out. What' your name, girl?"
Benna stood infront of Lhann's desk straight up with her hands closed and crossed behind her back.
"My name is Melo, sir."
"Well, Melo, you've been very helpful today. I think you've earned..."
Lhann was abruptly interrupted by and explosion, screams and turmoil right outside the outer door of the house.
"What was that?"
Lhann got up knocking the his chair over
"Stay there, girl. And don't touch anything."
He ran to the window in the other room to see what had happend. The view must not have been good enough, because his curiosity got the better of him as he opened the door and took a few steps out. Benna took a step back and peeked into the living room to see if Lhann was gone.
This is my chance.
She stashed the signaling device she had previously hidden in hand into her pocket and moved behind Lhann's desk. She looked for the hidden compartment. There! Right there on the floor in the corner. It was right where Roone had told her it would be. She opened it and replaced the datacard inside with the identical looking datacard Roone had given her. She closed it up and got back behind the desk.
"Darn kids"
Lhann grumpily remarked as he re-entered his office. He raised his chair again and sat down looking one more time at the credit transfer.
"Is it safe to go outside again, sir?"
Lhann looked back up at Benna as if he had forgotten she was still there.
"Yes! Right, right. Yes, it is safe to go outside again. It was kids just some darn kids' pranks."
Benna walked towards the door and as she reached its treshold Lhann got her attention once more
"Melo was it?"
Lhann walked up to Benna and stood tall before her.
"You didn't touch anything in here, did you."
Benna replied slightly fearful and with a submissive tone, as she and Roone had practiced many times
"No, sir."
Lhann looked deep into Benna's eyes.
"Good girl."
Lhann patted Benna on her right shoulder as to signal to her to get out of there
"Here's a fiver for your trouble. Now go get outta here."
Benna left the house and went to the alley where we was supposed to give Roone the datacard.
Although there was alot of daylight outside, it almost seemed like night time in the alley. She barely had time to notice danger as a large hand grapped her from behind and covered her mouth as the other arm dragged here across her chest and pulled her further in the dark alley. Benna's eyes were wide open as she tried to scream but couldn't, when suddenly the stranger let her go and her urge to scream subsided.
"Did you get the datacard?"
Benna turned around and saw Roone infront of her. She hit him across his thigh and a second time across his upper left arm
"I hate it when you do that"
Benna said in a grumpy tone
"And here's your stupid datacard."
Roone laughed; all the way down from his belly. Benna had always liked Roone's laugh. It was so authentic and it always managed to cheer her up. This time aswell.
"You know there's dessert for you tonight, right? That's Duwan's way to thank you for being successful"
Benna couldn't hold that suppressed smile back anymore.
"That's right. Show me that cute smile of yours."
Benna looked up at Roone
"It comes at a price, Roone"
, she replied.
"Does it now? Tell me what it is."
"Piggybag ride."
Roone laughed bellowed
"You're a tough haggle, Benna. Alright then, jump on. Next stop; dessert heaven".
As Benna and Roone walked, or more precisely, as Roone walked back to Duwan's Benna suddenly said
"Roone"
"Yes?"
You said we only play this game with bad people, right?"
"That's right, Benna"
, Roone replied.
"But Lhann didn't seem that bad. He even gave me a fiver. It doesn't feel right to steal from him"
Roone stopped and put Benna down.
"It's hard to tell when you're this young, Benna. Lhann is anything but a saint. He has hurt alot of good people too. That includes Duwan. When you do bad things, bad things come around to hurt you back. That's how life is. You did nothing wrong. Make sure you understand that."
Benna returned Roone's comforting look into her eyes. And then she hugged his leg.
"I understand that. Thank you, Roone."
Benna raise her hand to look for Roone's. He returned her invitation to hold his hand as they walked back to Duwan's place...